Case Study
Hack

Back
Hack Back CIC is an award-winning social enterprise who work with a wide range of individuals, all of whom experience significant barriers which prevent them from reaching their full potential in life.
Hack Back help those individuals to overcome their barriers through engaging with a green environment, interacting with animals, specifically birds of prey, and through a combination of bespoke Solution Focused Therapy and Coaching. These hands-on interactions include handling birds of prey, having the opportunity to watch the birds fly and view them at relatively close quarters.
Hack Back run a number of sessions including working with young school children with autism in order to support their needs, further develop skills and support them to deal more effectively with the world around them.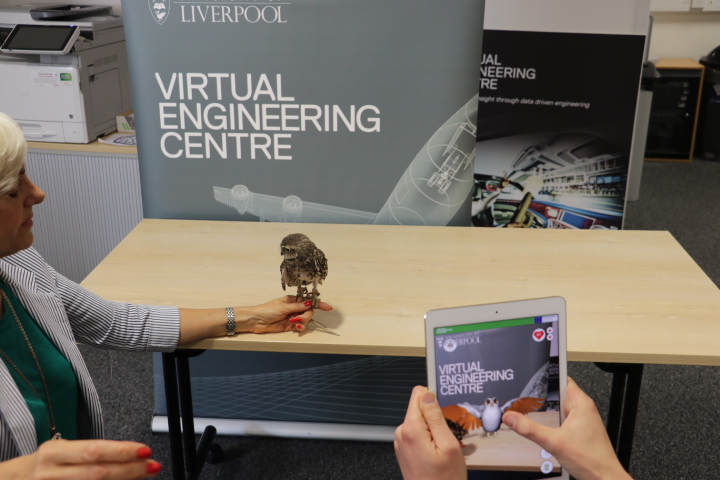 Approaching LCR 4.0
Hack Back worked closely with Halton Chamber and Sci-Tech Daresbury, where LCR 4.0 delivery partner, The Virtual Engineering Centre (VEC) are based. The Halton Chamber recommended Hack Back to look into digital companies and facilities to help assist them in bringing their work to life.
Hack Back Director and Psychologist Anita Morris met with the VEC who learnt more about Hack Back, their projects, goals and aspirations. The VEC Commercialisation Manager suggested Hack Back could create and develop an app which they could take to schools and offer to children with a range of disabilities including autism, ADHD, anxiety and depression. The app will help the users to deal with sensory overload, emotional hijack, anger management and heightened anxiety by introducing a sense of calm. The app is based on the experience the young people have when handling a real owl.
Partner Support
The Virtual Engineering Centre (VEC) work with a range of digital tools to ensure businesses reach their full potential, offering bespoke solutions with a number of expertise and specialists. The VEC has used digital tools to develop a number of simulations, including a virtual dog for children to learn about animal behaviour and body language with the hope to lower dog bite rates within the UK.
The VEC worked closely with Hack Back to really understand what they wanted from the app, how they hoped this would work to calm and educate children, whilst using a readily available digital tool they are already familiar with including smart phones and tablets.
Results
The VEC developed an Augmented Reality (AR) app, centred on a small virtual burrowing owl which audiences can interact with, based on real life owl Murray. The owl demonstrates a number of movements including blinking of the eyes, flapping of the wings, head movement to emulate a real owl and even jumping when the feet are tickled.
By using AR, not only can the user interact with the digital owl, but the app can offer the novelty for the user being able to see the owl within their own home and environment, making it a little more personal and relatable for children.
The app is created so the user concentrates on calming the owl if under distress by gently stroking the animated owl. The owl's heart rate is also displayed in a corner of the screen, helping children to learn more about animal behaviour whilst using calming techniques on the owl which they can often use themselves when they feel distressed or anxious themselves.
Since developing the app, Hack Back have taken the prototype to a number of schools and groups to gain honest and constructive feedback from their target audience. The results of the feedback were very positive with a number of autistic children saying they would use the app to help them to calm down for example whilst travelling, especially when on an airplane which can be a stressful or distressing situation for them.
Other users explained that they would use the app whilst waiting for health appointments and admitted it helped them to focus and stay calm and relaxed.
As children are already using digital technologies it gives Hack Back a way that they are familiar with, to introduce them to a tool that can help them, hopefully encouraging them to get outside and engage with nature. We are very excited about the future and how this app can be developed further to help with the young people we are passionate about helping.

Hack Back Director and Psychologist Anita Morris
Working to the Future
Hack Back have also realised through their continuous work, how enthusiastic young children are for getting involved in nature, preserving their environment and protecting many species they learn about. Several children have become vegetarian as they chose to alter their own lifestyle to further protect animals and their safety.
The company are also looking to further develop the app and the detail shown, increasing the realism of the owl.
Hack Back have recently been filming with a documentary maker to showcase their pioneering work with autistic children and young people using falconry and interaction with birds of prey within interventions.