Case Study
Morow

Ltd
Micro company Morow (Motorised Rehabilitation of Walking) is a usercentred, medical devices company which has developed a ground breaking new technology to support the physical rehabilitation of stroke survivors.
The company has drawn on expertise from product design, mechanical engineering and physical therapy to develop a medical device to support the motorised rehabilitation of walking in stroke patients at an earlier stage of recovery than previously possible.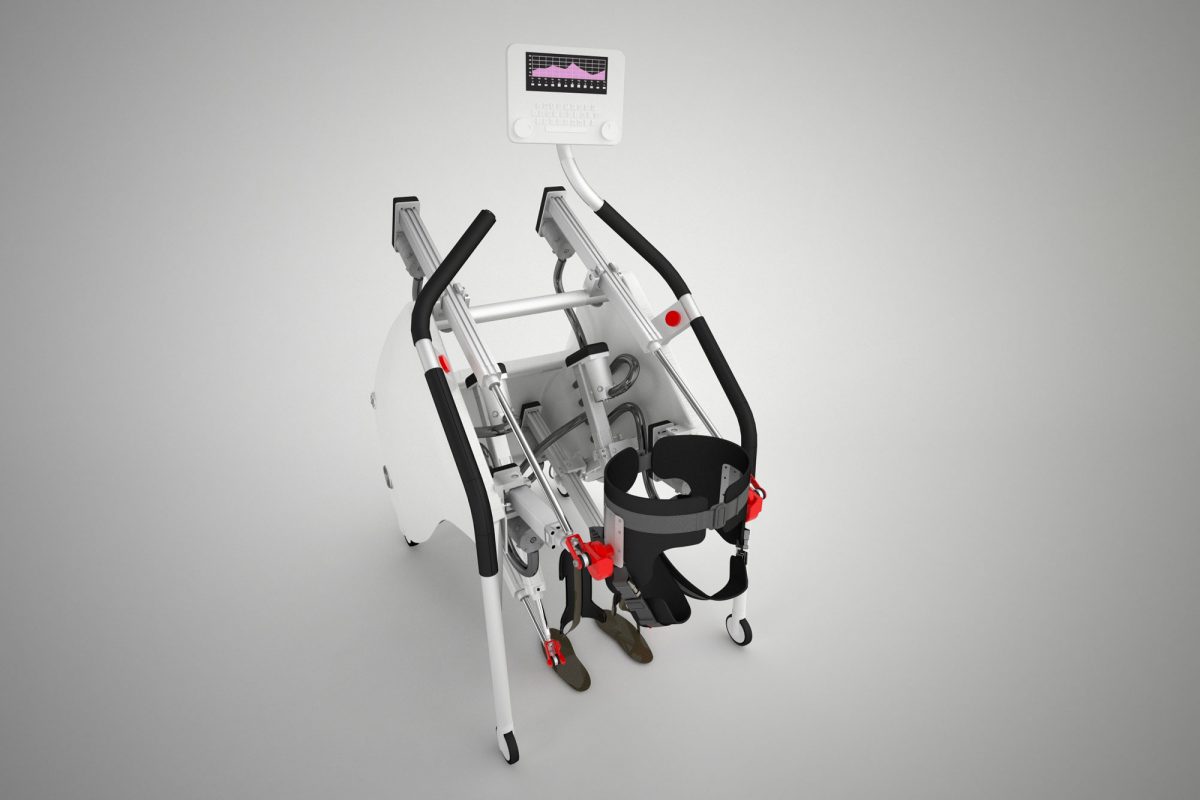 Approaching LCR 4.0
Morow approached LCR 4.0 through a Liverpool Local Enterprise Partnership referral. The company were in the process of reviewing their prototype design in advance of entering into a clinical trial and wanted to enlist the help of the Virtal Engineering Centre (VEC) to explore how they could best review the robustness of their control software. This would optimise their product for maximum smoothness of operation and safety, which would be central to the characteristics of their product.
Morow wanted to take a holistic perspective to ensure their testing was comprehensive refining the design to improve the patient experience.
Partner Support
The VEC used their expertise in systems integration and software development to help Morow in reviewing the existing software design including the documentation.
The VEC team explored the integration of the overall software control system and functionality of the servo's and motors that comprise the physical hardware.
This would provide Morow with more confidence that their product was optimised for the patient experience and was ready to deliver the reliable and robust contribution needed for a successful clinical trial.
Results
The VEC was able to draw on their collective experience of control software development, systems integration and hardware to help the company explore different ways to approach their development review.
The VEC was able to help the company by giving them confidence in their own ability to quickly review their coding, documentation and testing practices.
This allowed the team to identify opportunities for new approaches that could lead to improvements in the development, integration and testing workflow for algorithms involved in the control system. This knowledge exchange drew on the VECs own expertise in systems integration gained across the aerospace, automotive and medical sectors.
In addition to this the VEC gave Morow the interest into how digital technologies such as Virtual Reality (VR) could improve future developments.
The support the Virtual Engineering Centre has offered us through the LCR 4.0 project has been of great help and support towards the validation of our software as well as suggesting where improvements could be made.

This helped us to become more confident in our own offering before clinical trials, improving our own understanding of software design, validation processes and the integration of control software.

Jonathan Butters, Morow Ltd Director
Working to the Future
Morow will progress their National Institute of Healthcare Research funded i4i project as part of a feasibility study to prove the benefits of robotic support frames, to speed the physical rehabilitation of stroke survivors.